Family event on Saturday, January 9, 2021 at Mt Albert War Memorial Hall at 6 pm
Venkat Raman
Auckland, January 8, 2021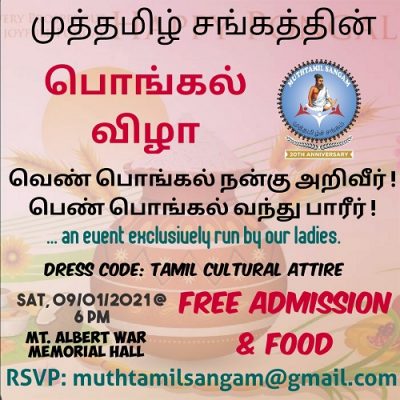 Auckland's Muthtamil Sangam is set to celebrate Pongal earlier than usual this year.
The Harvest Festival of the Association, which is marking its 20th Anniversary, will be held tomorrow- Saturday, January 9, 2021 from 6 pm at Mt Albert War Memorial Hall (located at 773 New North Road) in Mt Albert.
Secretary Kathiravan Sam said that the Programme, put together by female members of the Sangam, will provide opportunities for promoting local talent.
"From a very modest beginning as an Incorporated Society in 2001, we have progressed into a community organisation catering exclusively to the Tamil Speaking people in New Zealand. We expect more than 350 members and guests to attend the event," he said.
Tamil Classes
Mr Kathiravan said that as well as conducting regular Tamil classes for anyone keen on learning the language, the Sangam has been running its Tamil Radio Programme on 104.6 Planet FM on Saturdays between 8 am and 830 pm.
"The Station can be accessed on www.planetaudio.org.nz/muthtamilsangam. Details about our Sangam and its activities can be viewed on our website www.muthtamilsangam.co.nz. We also conduct Blood Donation Camps regularly and participate in environment awareness and improvement programmes organised by Auckland Regional Parks and Reserves," he said.
About Thai Pongal
Thai Pongal is celebrated on the first day of the month of Thai on the Tamil calendar.
The day normally falls between 12th and 15th of the month of January in the Christian calendar.
Thai is an auspicious month and Pongal is a dish of concoction of rice, moong dal, jaggery and milk. This Festival is celebrated by Tamilians irrespective of their religious leanings. Pongal is therefore known as 'Festival of the Tamils.'
The Commonwealth of Virginia in the US has declared January 14 as 'Pongal Holiday,' although not a public holiday.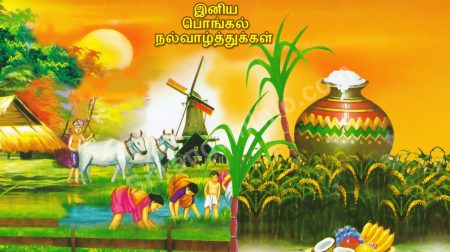 Telugu-speaking People of Telangana and Andhra Pradesh mark 'Bhogi' a day prior to Pongal and celebrate 'Pedda Panduga' on Pongal Day. The third day is known as 'Mattu Pongal' (Worship of the Cow) among Tamilians and 'Kanuma Panduga' in Telangana and Andhra. The fourth day is observed as 'Kannum Pongal' and 'Mukkanuma' respectively by Tamilians and Telugu-speaking people.
Most Hindus celebrate the four-day festivities as 'Makar Sankranti.'
Thanksgiving Ceremony
Thai Pongal is essentially a Thanksgiving ceremony with farmers celebrating the harvest season, paying tributes to Mother Nature, the Sun and farm animals (mainly cattle) for their assistance in reaping good yield.
Pongal is also a festival to encourage social cohesiveness and unite people by bringing them together at a common function. Tamil literature has substantial information about the Festival, while songs dedicated to Pongal are also popular.
Customs & Celebrations
Thai Pongal is an expression of jubilation over life's renewal.
On this day, farming families rise early, and after bathing, wear new clothes and gather in front of their home garden (known as 'Muttram') to cook the traditional Pongal. A square pitch is made and decorated with Kolam drawings, and is exposed to the Sun. A firewood hearth is set up using three bricks. Pongal is cooked in a clay pot.
Other ingredients used in cooking Pongal are chakkarai (brown cane sugar) or kalkandu (sugar candy), milk (cow's milk or coconut milk), roasted green gram (payaru), raisins, cashew nuts and few pods of cardamom.
Chakkarai Pongal is the sweeter version of Pongal.
Traditionally, Pongal Day is the day of release of new Tamil films, at least one of which would feature a major star.
The above story has been sponsored by