Venkat Raman
"Global Finance demonstrates a commitment to quality planning processes and follows through with effective execution of those plans. The Company has a high regard for the importance of its Board and its governance to oversee operations and future growth plans."
Those were the comments of the Panel of Independent Judges of the Twelfth Annual Indian Newslink Indian Business Awards 2019, in selecting the Company for the Supreme Business of the Year Award at our Awards Ceremony held on November 25, 2019.
Global Finance set a record by scooping five awards- two in the Company Category (Business Excellence in Customer Service and Best Large Business of the Year) and two in the Individual Category (Best Financial Advisor Mortgage and Best Financial Advisor Insurance of the Year) won by Ajay Kumar and Aseem Agarwal.
The Judges described Global Finance as 'An organisation led by a management team, with a high commitment to the customer, underpinning success.'
"The Company represents financial institutions and is linked to the products and services that they provide. This has been a catalyst for developing strong relationships with the providers that support them," they said.
Two decades of Excellence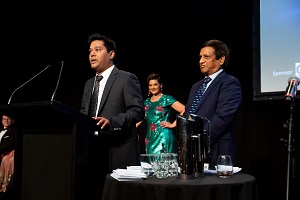 There is a certain inexplicable affinity between Global Finance and Indian Newslink – both were launched in 1999- the first in March and the other in November.
Global Finance Managing Director Ajay Kumar, who was operating from the garage of his house, arranged the finance for the property of the Late Ravin Lal, Founder-Managing Director of this newspaper which also began in the garage.
That was 20 years ago; and over these two decades, both companies have grown but that is where the comparison ends.
Global Finance has arranged more than $9 billion in mortgage and insurance cover during these 20 years and has about 2000 active customers who constantly seek expert advice on obtaining mortgage loans either for their first home or for investment and for their varying insurance needs.
The Company today has three offices, at Kirkbride Drive in Mangere, Henderson (West Auckland) and Manukau (South Auckland).
Unique Loan Liquidation Formula
Global Finance works closely with its customers and helps them to pay off their mortgage loans as soon as possible- in some cases as early as five years.
"Our unique formula of making our customers mortgage-free sooner than what they think would be possible, has seen many of them look for investment properties. In addition, we have seen the next generation growing and seeking our services. Growth and expansion are therefore constant," Mr Kumar said.
Innovative technology
Mr Kumar understands the significance of digital technology and hence has set up a custom-built 'technical fortress' that ensures storage and retrieval of extensive data about every customer. The system also provides up-to-date information on each loan application, the review process, how each loan is performing and such other reports that would enable Global Finance Advisors to provide proper advice to his clients.
Mr Kumar said that Global Finance has created its own, state-of-the art, cloud-based information system that would take the company and its intellectual property to the highest level ever.
"The software, written especially for Global Finance, provides even such micro information as to when a file was accessed, by whom and how long it was kept open by anyone in the company who has access to such data. The idea is to enable our staff to obtain necessary information quickly and thoroughly and update them as and when required. I would have the ability to monitor the system from anywhere in the world. With billions of dollars flowing through documents, it is imperative that the system conforms to the highest standards of security and remains pilferage-free. In today's world of hacking and leaking, it is better to be careful than sorry," Mr Kumar said.
Global Finance business continues to grow at 30% annually to manage which, the Company constantly needs people, acquired through a rigorous process of selection and generous mode of retention.
Photo Caption:
Ajay Kumar and Aseem Agarwal with the Business Excellence in Customer Service Award, watched by (from left) Mercury Printz Directors Sakthi and Ilango Krishnamoorthy, Fiji Attorney General Aiyaz Sayed-Khaiyum and National MP Paul Goldsmith at our Business Awards on November 25, 2019
Aseem Agarwal gives his Acceptance Speech after receiving the Supreme Business of the Year Award, watched by Ajay Kumar and Master of Ceremonies Jackie Clarke at our Business Awards on November 25, 2019
(Pictures by Narendra Bedekar)