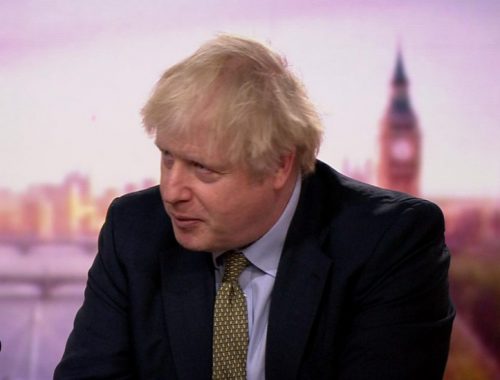 BBC London, January 4, 2021
Regional restrictions in England are "probably about to get tougher" to curb rising Covid infections, Prime Minister Boris Johnson has warned.
He told the BBC that stronger measures may be required in parts of the country in the coming weeks and that this included the possibility of keeping schools closed, although this is not "something we want to do."
https://www.bbc.com/news/uk-politics-55521747
Out of control
Labour Leader Sir Keir Starmer has called for new England-wide restrictions within 24 hours.
He said that Coronavirus was "clearly out of control" and it was "inevitable more schools are going to have to close."
It comes as the UK recorded more than 50,000 new confirmed Covid cases for the sixth day in a row, with 54,990 announced on Sunday, January 3, 2021.
An additional 454 deaths within 28 days of a positive test result have also been reported, meaning the total by this measure is now above 75,000.
Speaking on BBC One's Andrew Marr Show, Mr Johnson said that he stuck by his previous prediction that the situation would be better by the spring, and he hoped "tens of millions" would be vaccinated in the next three months.
But he added: "It may be that we need to do things in the next few weeks that will be tougher in many parts of the country. I am fully, fully reconciled to that. And I bet the people of this country are reconciled to that because, until the vaccine really comes on stream in a massive way, we're fighting this virus with the same set of tools."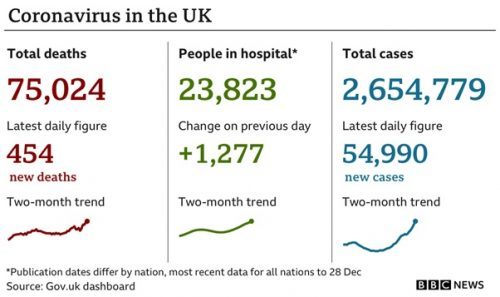 Variant was unpredictable
The Prime Minister said that Ministers had taken "every reasonable step that we reasonably could" to prepare for winter, but "could not have reasonably predicted" the new, more transmissible variant of the virus that has emerged over the autumn.
Speaking after Mr Johnson's interview, Sir Keir said that introducing new nationwide restrictions in England "has to be the first step to controlling the virus."
"There is no good the Prime Minister hinting that further restrictions are coming into place in a week or two or three. That delay has been the source of so many problems. Let us not have the Prime Minister saying, 'I am going to do it, but not yet'," Sir Keir said later.
Meanwhile, Mr Johnson defended plans for primary schools to reopen in most of England on Monday (January 4, 2021), amid opposition from teaching unions and some local Councils.
It came after Amanda Spielman, Head of Ofsted, England's Schools watchdog, said that closures should be kept to an "absolute minimum."
The rapidly rising infection rates mean it should come as no surprise that tougher measures are being considered.
Infection levels are nearly four times higher now than they were at the start of December, and that in turn has put more pressure on hospitals.
Tough measures helpful
There are signs that the restrictions have started slowing the rises in London, the East of England and the South East.
But that on its own is not enough. Ministers want to get cases down.
So what extra can be done? After all most of England is effectively in lockdown already with Tier Four in place. Those places not in tier four could, of course, follow.
But some public health experts are warning more needs to be done.
There is a determination to get Primary School children back – they have among the lowest rates of infection if you look at symptomatic cases.
But infection rates are higher among Secondary School-age children. The government has bought itself time by delaying their return.
Scotland and Wales
A further 20 million people in England were added to Tier Four – "stay at home" – the toughest set of rules, on December 31, 2020 in a bid to stem a surge in Covid cases.
It means that 78% of the population of England is now in Tier Four, under which non-essential shops are closed and people can only leave their homes for a certain number of reasons.
The Scottish Government will meet on Monday to consider "further action" to limit the spread of the disease, Scottish First Minister Nicola Sturgeon said.
All of mainland Scotland is currently under its own level four restrictions – with only some islands under less stringent tier three measures.
Wales entered a nationwide lockdown on December 20, 2020, with First Minister Mark Drakeford saying on Sunday (January 3, 2021) that it was "difficult to see" how the rules could be strengthened further.
He said that Welsh Ministers would consider whether restrictions could be "tweaked at the margins" at a Cabinet meeting on Wednesday, January 6, 2021.
The situation in Ireland
Northern Ireland is in the second week of a six-week lockdown that began on Boxing Day. Stricter measures, including a "stay-at-home curfew", ended on Saturday, January 2, 2021.
In another development, an academic has said that there is a "big question mark" over whether a Vaccine developed at Oxford University will be as effective against a new variant of the virus that has emerged in South Africa.
Prof Sir John Bell, Regius Professor of Medicine at the University, said that the team was currently investigating this question.
He said that it was "unlikely" the variant would "turn off the effect of vaccines entirely," and in any case it would be possible to tweak the vaccine in around 4-6 weeks.
"Everybody should stay calm; it is going to be fine. But we are now in a game of cat and mouse, because these are not the only two variants that we are going to see," he told Times Radio.
Source: BBC News