Venkat Raman
New Zealand and New Zealander were hit by tragedies this year- the March 15, 2019 Christchurch massacre and the recent eruption in White Island. We share the grief of affected families and friends and hope that such disasters will never visit us again.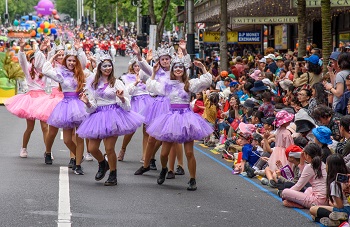 Even as we place our hearts on victims of these and other tragedies around the world, life must go on, as it is often said. To live is to give, share and do good to others.
Each of these get added meaning with Christmas and New Year, bringing with them the dawn of a new era. Snow, ice and cold weather are often missed by average New Zealanders since the Southern Hemisphere is normally hot and humid but there could be rain and even thunderstorm as we approach the holiday season.
Festivities have begun already, with commercial organisations and corporates hosting Christmas and year-end parties for staff and customers. Major retailers have placed an extensive range of items on special offers, while shopping malls, with extended business hours, have dedicated counters providing free gift wrap services.
Legends and traditions come alive. Towns, villages, communities and the entire country is in a festive mood.
Santa's Parade
The traditional Farmers Santa Parade held on November 24, 2019  in Auckland's central business district was a festive affair as the parade of Father Christmas brought anxiety and fun earlier than expected. The annual Farmer's Santa Parade featured all the amazing pageantry, fun and surprises, making it a perennial favourite of Aucklanders.
However, sadly, after 86 years of smiles, bringing joy and laughter to millions of people, Santa took his last ride at the Farmers Santa Parade on Queen Street in Auckland. Thousands of children were present at the Parade with their parents and elders, witnessing a grand spectacle of events.
There were amazing new floats, Disney's Mickey, Minnie and Donald Duck, PJ Masks Catboy, Gekko and Owelette, Transformers Optimus Prime, Police Horses and of course, the man himself, Santa.
Nonetheless, the Parade was a fun-filled affair as Santa waved to tens of thousands of People, cruising high above the street in his sleigh. Children waited for more than an hour for Santa and his reindeer, the last float to roll by. Most stood or sat on the road-edge of the 2.2 km route and many perched on parents' shoulders. Hundreds of performers including those on brass bands, pipe bands, Asian dancing troupes, swooping dragons, stilt walkers, clowns, bubble-blowers, several dogs and two donkeys were on the floats that moved along Queen Street.
Christmas Dinner
Christmas dinner in New Zealand is a mixture of Western and South Pacific traditions. Many still have turkey and plum pudding but often served with salads. The traditional feed is cooked on the barbecue outside and may include a variety of typical Kiwi treats, such as lamb chops and Christmas fare. The festive food is incomplete without a large, fluffy but light Pavlova, our own dessert, made with whipped egg whites and sugar, cooked in a slow, low oven and decorated with fruit (often Kiwifruit) and cream.
Maori traditionally celebrated the month Hakihea (which begins on or about December 15) as one of ease, before the Christian missionaries exercised their influence. The 'Maori Hangi' is a big hole in the ground, heated with hot rocks and then loaded with baskets of food, covered and allowed to cook underground. The food items include tender pork, chicken, kumara, pumpkin, potatoes and stuffing. The 'Hangi' is usually served around 5 pm followed by carol singing.
Whatever be the political issues and other problems rocking the country's polity or economy, Christmas is a season for goodwill and friendship. People from all walks of life decide to become a little more human, showing concern for the fellow beings and fostering goodwill, kinship and universal brotherhood. It is a time to give-love, gifts and understanding and a time to forgive.