Traffic chaos in Auckland Central Business District
Auckland, October 22, 2019
Standfirst: A major fire broke out this afternoon at the construction site of the new SkyCity Convention Centre on Hobson Street in the Central Business District of Auckland. For the past eleven hours, the New Zealand Fire Service has been fighting to bring the raging fire under control and as per latest information, it may take several hours more to extinguish the fire completely. Thousands of people from offices and residences in the area have been evacuated for their safety. The following Report from Radio New Zealand contains updated information at the time of this post.
Cause not known
The orange glow of flames from the burning SkyCity Convention Centre is clearly visible this evening, and thick black smoke continues to billow from the building. Smoke fills the air around Auckland CBD near the SkyCity convention centre, where a fire broke out. 
Flames engulfed the top of the building just after 1 pm this afternoon – starting on the seventh floor before spreading to the sixth. The cause of the fire is not yet known.
Bitumen and insulation is on fire and there are also concerns about gas cylinders in the area.
Hundreds of people were also evacuated from the precinct, including the Sky Tower, because of the smoke earlier in the afternoon.
Firefighters this evening say they are assessing whether to let the roof of the Convention Centre burn and collapse as they struggle to fight the blaze. At least one helicopter is circling overhead. Fire and Emergency Principal Rural Fire Officer Thomas Harre said it has been difficult for firefighters to get inside the building and to the top because the fire started in the roof cavity.
St John says that one person has been admitted to Auckland City Hospital in a serious condition. The fire crews have also had to be pulled away this evening from the SkyCity blaze to fight an apartment fire nearby.
Firefighters were called to the scene on the corner of Albert and Wyndham Streets to see smoke coming from the 15th floor.
SkyCity evacuation
Fire and Emergency said the apartment blaze was now out, but it was too early to say what caused it. SkyCity has evacuated its entire Auckland precinct, because of smoke from the fire, with people forced to leave the Sky Tower, casino, all SkyCity hotels and restaurants and corporate offices.
The company said that Police were onsite to help with evacuations.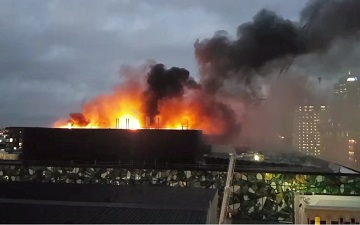 The Fire Service has sounded the sixth alarm, which means all available resources from Auckland have been called in, with further resources from Hamilton on the way.
Fire and emergency say that 23 appliances from across greater Auckland have responding, including one aerial unit from Hamilton.
Difficult to extinguish
They are also advising people to stay out of the CBD area.
Fire and Emergency spokesperson Dave Woon said it was "a very, very difficult fire to extinguish."
Police and Ambulance staff are on the scene to assist fire crews and hundreds of people, including construction workers, have been evacuated.
One man said he was on his lunch break when he thought he heard a fire drill sound out.
"I'm just eating my lunch … you hear that fire alarm, often before the alarm gets triggered you hear about it before hand and we just left and come here. I just want to finish my lunch."
Significant setback
In a statement, Fletcher Building – the company constructing the Convention Centre- said its people and contractors were its number one priority at the moment.
Economic Development Minister Phil Twyford said it's a major project with economic benefits for Auckland, so it's a disappointment.
"I'm really happy to hear all the workers have been safely evacuated and it's too early to say with any certainty what this means in terms of construction, but I have no doubt this will be a significant set-back," he said.
Mr Twyford said it was unlikely to have any financial implications for the government.
Problems plague Project
The $700 million International Convention Centre and Hotel project of SkyCity has been plagued by problems, including cost over-runs and construction delays.
The complex is being built by Fletcher Construction and SkyCity.
This afternoon, Fletcher Building's share price has dropped nearly 1%, while SkyCity share price is down 2-and-a-quarter percent.
The casino operator has been hoping that the Convention Centre and hotel complex would be completed by the end of next year in time for the America's Cup in 2021.
The project is set to cost several hundred million more than budget and is running two years late.
It was originally budgeted to cost between $400 million and $500 million, but is now expected to cost more than $800 million.
Earlier this year, the Company pushed the completion date out to the second half of 2020 – a delay of six months, forcing a review of bookings.
The Complex is being built by Fletcher Construction and SkyCity has already triggered penalty clauses in its contract which require Fletchers to pay damages.
It was expected the Convention Centre would be ready well in time for 2021, when Auckland hosts APEC and the America's Cup.
SkyCity share price dropped 2.75% today, while Fletcher Building was down 1.5%.