Simon Bridges
First of all, a big congratulations to the entire team at the Indian Newslink celebrating their 20th Anniversary.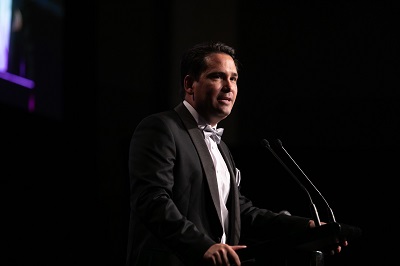 It is a huge achievement and a testament to the hard work and dedication that has been apparent over the last two decades.
I greatly appreciate the role you play in our vibrant Indian community, and I thoroughly enjoy getting involved in local events and traditions.
Festivities highlight culture
This year's Diwali Festival was a particular highlight of mine, and I look forward to next year's festival as well.
Events like this give us the opportunity to come together and enjoy the diversity and richness of our cultures.
The National Party respects and admires the work, diversity and culture that the Indian community brings to New Zealand.
I got a further taste of this culture when I travelled to India earlier this year. I was blown away and found the pace of life over there both exhilarating and confronting, it was a true assault on my senses but I can't wait to return.
Fostering Indo-Kiwi relations
I made the trip to India because I believe we have an important friendship that I want to see develop further, in a way that can be mutually beneficial for both nations if explored properly.
We have a long shared history and culture, whether it is the Commonwealth and Cricket, or those who have come to New Zealand and made this country their home since the 1890s, we have a basis for deep personal friendship.
Currently, our two way trade is worth approximately $3 billion, but I think it can increase further. This will be no small feat and will require a huge amount of work from the New Zealand Government. This means regularly visiting India and ensuring we have a free and frank line of dialogue with Prime Minister Narendra Modi and his team.
Potential for trade
If I was Prime Minister, I would ensure I am doing this and furthering this relationship.
There are plenty of products that we could sell to India. I'd love to see more New Zealand Lamb and Wine on the shelves there, and for some of the tariffs to be relaxed to ensure they are more affordable.
Currently, there is a 150% tariff on New Zealand wine, which unfortunately is hugely limiting the amount of people who can consume it.
It needs to be about more than just selling our great products though. We want to do more with India, not just sell more.
There are plenty of other areas that we can advance our relationship, youth Cricket exchanges for example, encouraging more tourism ventures between our countries, collaborating on research and development with mutual interests and greatly improving our connectivity.
Immigration blockade
A major hindrance to enhancing all of this comes down to the issues we are currently experiencing in immigration. Visa processing times are far too long and make it too difficult for tourist or student visas to be issued.
Meanwhile, the Government's flip-flopping on partnership visas was deeply unsettling and highlighted how divided they are on immigration policy.
The reality is that partnership visas for arranged marriages have been a normal part of immigration policy for a long time. To think they could arbitrarily shut it down shows how naïve the Government is.
Direct flights to India
Accessibility is another area that would need to be addressed to improve our relations with India. As Minister of Transport I signed an agreement to strengthen our air ties with India and I would like to see this continue to progress. One day this could even mean direct air flights between India and New Zealand.
New Zealand and India have a lot we can offer each other and there are plenty of opportunities worth exploring.
There is a huge opportunity for our relationship to grow both trade-wise and as allies.
If National earns the right to form a Government in 2020 we will look to grow our ties with India in a way that is mutually beneficial for both nations.
Simon Bridges is Leader of the National Party and Leader of the Opposition.
---
Trip to India an eye-opener
Following his first visit to India in September 2019, Simon Bridges said:
There is huge potential for improving relations. It has to be approached in a modern way with sophistication. It's not just about selling more stuff, particularly dairy. We are not and will never flood this market. We want to do more with India, not just sell more.
If we say it's about cricket, how do we work together on that? Youth exchanges? And what about something as left-field as space cooperation. India will any day now become the fourth country to land on the moon. New Zealand manufactures components for space exploration, it may be a fertile area for us to explore.
We should be encouraging direct flights, that's the next logical step of the air services agreement that I signed as Minister, and we need to fix the length of time it takes to get a tourist or student visa, which currently takes too long and is costing us tens of millions of dollars in lost revenue.
Like I said, India is an exciting place. It is the biggest population of under 35-year-olds in the world and growing, reportedly needing a million more jobs each month for that younger demographic. Our countries have plenty we can offer each other and we need to realise the potential.
Opposition Leader Simon Bridges with Gerry Brownlee and Kanwaljit Singh Bakshi inside the Golden Temple in Amritsar, India in September 2019 (Picture Supplied)
Opposition Leader Simon Bridges at the market place in Old Delhi (Facebook Picture)
12