Mother and daughter launch Indian Gujarati cookbook
Contributed (Edited)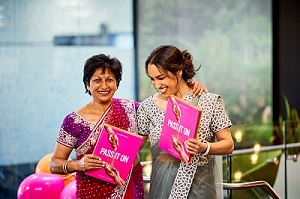 Preserving the authentic Indian Gujarati cuisine for her three daughters has been one of life's goals for the Wellington based Shobha Kalyan.
It has also been her dream of many years to write a cookbook replete with recipes that would be cherished and practiced by generations to come.
Shobha's grandparents were one of the first Gujaratis to arrive in New Zealand almost 100 years ago.
She was surrounded by traditional Gujarati cuisine as she grew up.
Shobha taught what she knew to her children, and now that they are the third generation New Zealand-born, she wanted to write all her recipes in a cookbook to preserve the authenticity for use by anyone interested.
This was great motivation for her to self-publish the cookbook, called 'Pass It On' with her youngest daughter, Keryn Kalyan.
After nearly two years in the making, the mother-daughter combination released their cookbook on November 24, 2019.
Culinary art with Culture
This vibrant new cookbook comprises 103 deliciously aromatic recipes written by Shobha, each complemented with a beautiful full page image captured by Keryn.
Created and designed to allow readers feel that they were immersed in the Gujarati culture and cuisine, 'Pass It On' glitters with aesthetic design and authentic recipes.
The gold edging on each page merges to create a unique Gujarati experience.
The cookbook cover also communicates their story showing Shobha's hands passing spices down to Keryn's hands.
Conscious decision
Shobha and Keryn consciously made the decision to self-publish to keep creative control, and be able to spend as much time as they needed pouring their love into their special project to deliver their cookbook as best as they could.
Self-publishing also meant starting a small business, which for Keryn was not only challenging but also a telling experience.
They discovered that self-publishing was more than creating a cookbook, putting in place ways to sell and market the publication. Their efforts included hiring freelancers to fill skill gaps, project management, packaging and distribution.
Daunting exercise
For Shobha, the most dauting exercise was measuring ingredients and writing them down.
"I never used recipes to learn. I would ask my mother, 'How much do I put in this?' and she would say, 'A little bit.' Well, how much is a little bit?"
She was taught to use her senses to cook, which meant learning the right amount of ingredients; this was how she taught her daughters too. Working on each recipe was the first time that she used measuring spoons in Gujarati cooking!
The fact that everything is now written and preserved in one cookbook would ensure that Shobha's family recipes will never be lost.
The Freelancers
Jessica Read was the designer who helped to create an exquisite and distinct look and feel that perfectly portrays Gujarat. Andrea Coppock was the copy editor and Kate Wanwimolruk was the proofreader, both experienced in the cookbook publishing industry, having worked with New Zealand's top chefs.
Shobha's husband was the accountant and he was very supportive throughout the journey – he was even hired as the dishwasher!
Down to the barcode on the back, everything was trickier than expected and they learned on the go. Shobha and Keryn persevered through their journey, had a successful launch party, and now they are so excited to pass it on and share the secrets of their family cuisine with you.
This beautiful cookbook makes the perfect Christmas gift, and retails for $59.99.
To buy or find Pass It On, or to read more about the journey, visit
www.passitonecookbook.co.nz
A percentage of the proceeds of every book sold online will be donated to 'Dementia Wellington,' a cause close to their hearts after Shobha's mother-in-law died in April.
You can also follow their journey on Facebook and Instagram @passitoncookbook
Photo Caption:
Mother and Daughter venture: Shobha and Keryn Kalyan
A time to celebrate: The Kalyan Family in Wellington
Accountant, Kitchen Help and Dishwasher: Jagdish Kalyan
The Front Cover of the cookbook
This book contains more than 300 pages of 100 Recipes from Aromatic Spices to Lamb Kebabs. The culinary art of Gujarat demonstrates the healthy cuisine that the Indian Sub-Continent offers and as long-time settlers, Gujaratis have brought the specialities of their State to most countries of the world.
Gujarat is primarily a vegetarian state, influenced by Jainism.
Many communities however include seafood, chicken, and goat in their diet.